Pyriscence: After Fire

Hand blown glass, eucalyptus oil, latex tubing, steel, lightbox, scents formulated in collaboration with Ainslie Walker (Eucalyptus oils, water, smoke, lighting, soil, technology, English Rose).
Commissioned by Powerhouse Museum, 2021.
Bushfire - that sublime force of catastrophe and rebirth - has mutated into something not even the Eucalypt can survive. Two lungs of glass ― a material transformed by fire and breath ― flow together with oil of Eucalyptus globulus. These lungs of convergent plant, animal and technological origin are branching, networking and respiring in hybrid breaths. A remaking of the evolutionary past to confront the perils of the present, as seen through the prism of an imagined future in multispecies collaboration with the fire-adapted Eucalyptus.
Exhibited in
Powerhouse Museum
June 2021 - May 2022
Eucalyptusdom
reckons with our cultural history and ever-changing relationship with the gum tree, presenting over 400 objects from the Powerhouse Collection alongside 17 newly commissioned works by creative practitioners working across the fields of design, architecture, film, applied arts and performance. Taking its title from a 1930s text by Edward F Swain, one of Australia's earliest conservationists, the exhibition will also reveal the Powerhouse Museum's unique and longstanding relationship with the eucalypt.
Drawing on the Museum's comprehensive design and applied arts collection, ceramics, furniture and a sledge made of spotted gum that went with Sir Douglas Mawson to Antarctica,
Eucalyptusdom
will also explore the eucalypt's emergence as a symbol of Australian identity in post-federation Australia.
Commissioned practitioners presenting new work include Nicole Barakat and the Rohingya Women's Development Organisation, Dean Cross, Julie Gough, First Nations Fashion and Design, Ashley Hay, Vera Hong, Jonathan Jones and Dr Uncle Stan Grant Snr AM, Nicholas Mangan, Anna May Kirk, Luna Mrozik-Gawler, Jazz Money, Lucy Simpson, Yasmin Smith, Wukun Wanambi, Sera Waters, Damien Wright and Bonhula Yunupingu and Justine Youssef.
A program of
performances, talks and masterclasses
will unpack the exhibition, exploring layered perspectives from First Nations artists, diverse creative practitioners and communities; investigating the realm of eucalypts through the complexity of place, arts, science and cultural heritage.
The exhibition has been designed collaboratively by Australian architect Richard Leplastrier AO, SJB architects, Jack Gillmer and Adam Haddow, and 3D spatial designer Vania Contreras, with an accompanying soundscape composed by Jane Sheldon and lighting design by Nick Schlieper.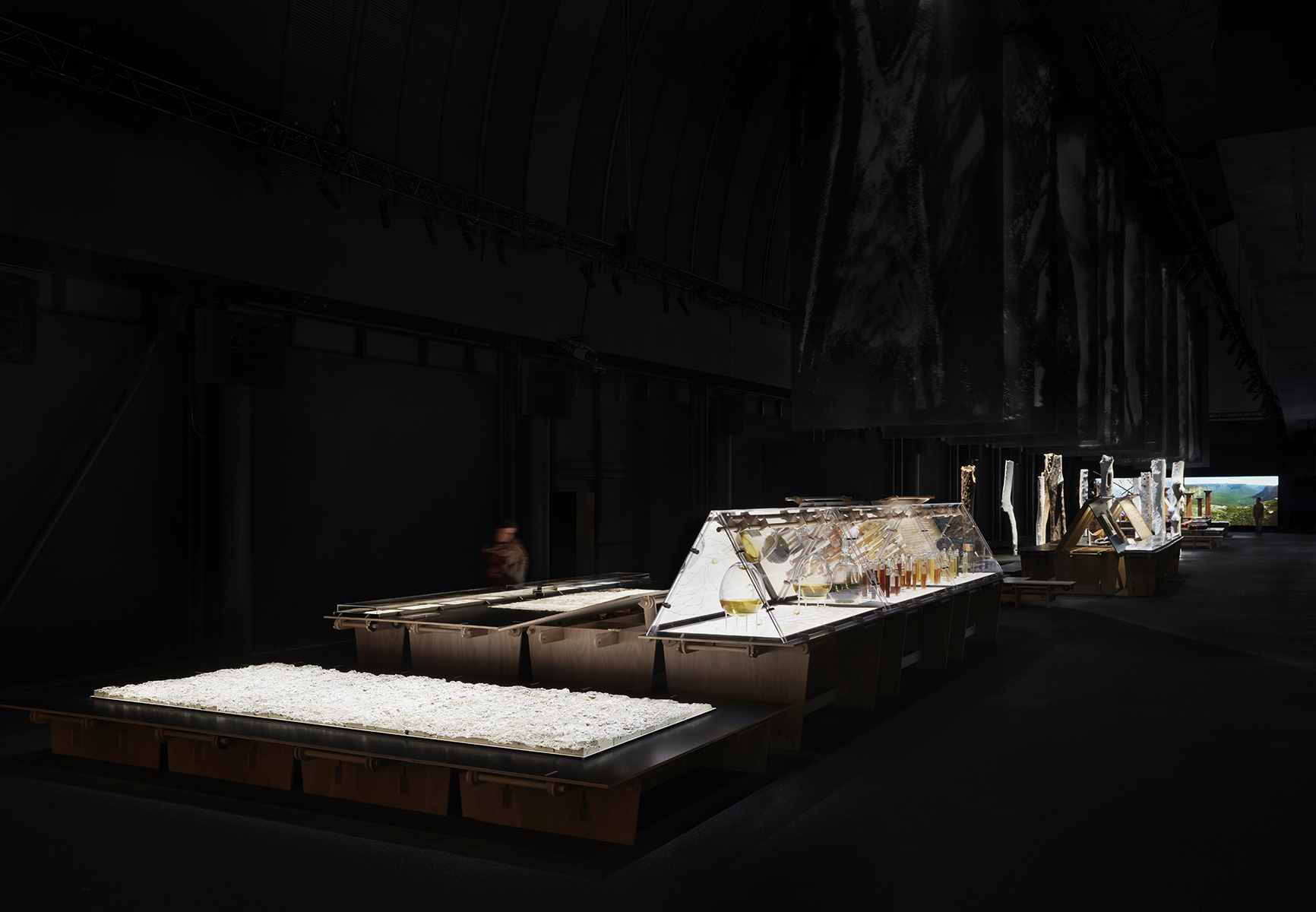 Photographs by Zan Wimberley
courtesy of the Powerhouse Museum